Celia showcasing her craft
CREATING YOUR CRAFT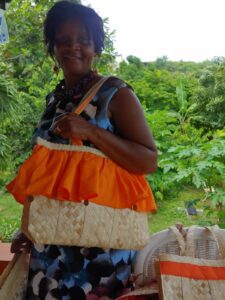 LOVING YOUR CRAFT
HOW TO BECOME A SUCCESSFUL ARTIST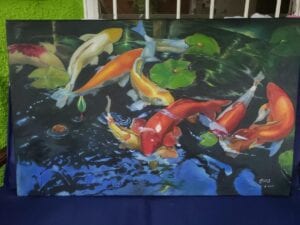 FIRST CONTESTANT RICHIE MODESTE

Atyiah Chetram is our first Contest winner. Our audience voted for their best Painting and we have a Winner. We would like to congratulate Atyiah on her win. On behalf of I Am GRENADA, I would like to wish her God's best in all her endeavors.
Thanks to all the contestants and participants in our first contest. We had an idea and so far, we love the outcome. I personally liked the Honey Comb. My dad liked the Nutmeg Princess. When I asked him why, he said that he can identify with it. I liked the Honey Comb video and because of that, I voted for him. To me, Art is personal and relative. What speaks to you may not speak to me. We also want to thank Dale Neptune and Hubert Philbert for their various roles in making this a success.
Our next contest will be for Handmade Craft. We would conduct this one differently to avoid double, triple and quadruple voting. Send us your Homemade Craft, we will post your video on the website but the voting would be conducted on our FB page. All the information are here on our website. I am looking forward to this competition.
SEE HER VIDEO IN OUR GALLERY BELOW
Hendy George

Shervone Neckles

Grand Etang Lake

Sign Up To Be Notified Of New Articles