Celia showcasing her craft
CREATING YOUR CRAFT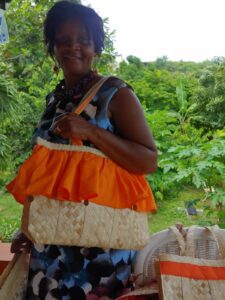 LOVING YOUR CRAFT
HOW TO BECOME A SUCCESSFUL ARTIST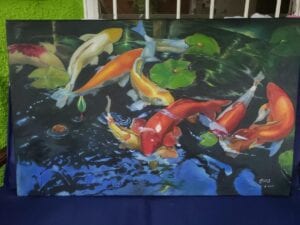 FIRST CONTESTANT RICHIE MODESTE

As a young girl growing up in Mt. Carmel, then later Marquis, St. Andrews, Dr. Joseph always knew she will eventually pursue an education in the sciences. Excelling at the primary, secondary and tertiary levels in school, she embodied the qualities of an engineer, diligent with a curious mind. Following her passion and curiosity, she obtained bachelor's, master's and doctorate degrees in aerospace engineering at Virginia Tech. Her numerous awards including 11 CSEC distinctions, 4 CAPE distinctions, Island Scholar, and The Marryshow Cup Award, were all just part of a bigger puzzle. She believes that essentially, it should never be about the title (degree or job or otherwise) but instead about what interests a person and sparks their curiosity. Her goal in life is to work on exciting and innovative technologies.
Dr. Liselle Joseph, is the first woman from the Eastern Caribbean to earn a PhD in aerospace engineering. Dr. Joseph has had a rewarding journey with challenges and adventures along the way. Her experiences range from leading projects to developing technologies for well-known American companies such as NASA, General Electric, the US Navy, Cummins, and the National Science Foundation. Let's just say she is living the dreams of many budding American scientists and engineers. Although she is from our small island in the Caribbean, she's made a name for herself globally with her postdoctoral research and making contributions to Fortune 500 companies.
For this Daughter of the Soil, it was not all about academics. In addition to completing internship programs with large American corporations, she was also a part of clubs and honor societies such as, the National Society of Black Engineers, Tau Beta Pi, Sigma Gamma Tau, and The American Institute of Aeronautics and Astronautics. In the midst of her busy schedule, she always found time for volunteering, and continues to do so. She finds great reward and joy in mentoring aspiring engineers, especially women and minority engineers.
When did you first decide that you wanted to become an engineer? What motivated you to make this decision? "I didn't decide on engineering until after TAMCC. I always knew I was going to further my education in sciences, in some field related to math and physics (I considered pure physics or math or something) but I hadn't decided the exact field. Personally, I think that there is a lot of pressure on students to know exactly what they want to do at an early age, and there is subtle pressure to do something that sounds prestigious. Thankfully, being from the country, I was not well-known and there were more popular students who got more attention than I did. That meant that I could escape some of that pressure and really seek out what excited me. My philosophy in education (and life) is to follow my curiosity. I was curious about the mechanics of cars and airplanes and so I looked into Mechanical engineering and Aerospace engineering. After researching the topics, I decided on Aerospace. I would love to say that this was some great calling, but it wasn't. I did my research and went toward what I was interested in spending time learning. I think this approach is so important. Even today, I still follow my curiosity and seek out interesting and challenging problems, then I make decisions based on that. That is how I decided on my MS, PhD and eventually which job offer to accept. If I ever find that I am curious about something else and want to learn something new, then I will change careers. Essentially, it should never be about the title (degree or job or otherwise) but instead about what interests a person and sparks their curiosity. I also resist the temptation to think about what other people will think about my decisions. For example, "if I quit my degree or change jobs will people think I was not smart enough to succeed? If I take 5 years to finish my degree instead of 3, will people think I am 'dunce' or that I am 'playing bright' ?" Thoughts like this only hold us back from being our best."
What advice would you give to young aspiring aerospace engineers from the Caribbean? "Make sure your voice is not drowned out by external noise. I have found this idea to be useful in many situations. It is good advice for everyone, but for aspiring engineers it means that:
1. You should reflect on your true interests before making any career decisions. Don't let everyone's opinion ("noise") sway or pressure you into choosing a field of study that is not in line with what you want (but still listen to sound advice!). In the end it is your career and life, and you are the one who needs to be fulfilled. Success is something you alone can define because it is different for everyone. In the same way, failure is something you alone can define.
2. Listen to yourself when it comes to your well-being. If you start a program or career and find that it is not right for you, don't feel pressured to stay in order to "succeed". As I said before, resist the temptation to consider what other people will think about your decisions and what the "gossip" will be. Take care of yourself physically and mentally before all else, and do not sacrifice your well being to be "successful". Give yourself permission to be imperfect and define success for yourself. Unfortunately, I have seen many promising colleagues give up on their careers because of the pressure they put on themselves to be perfect and do what everyone expects of them.
3. When anyone discourages or criticizes you ("noise") during your studies or beyond, let your voice remind you of your purpose and capabilities. As a Caribbean person in a field dominated by Caucasians, you will be criticized or at the very least underestimated. Your voice will give you resilience and persistence in these times.
4. When you start your career, make your intellectual voice heard and be professionally assertive. Most engineers are incredibly intelligent and confident, and so quite a few think they are always right. This means that they can be very vocal when working in teams. Give your opinions and let your voice be heard with authority."
Hendy George

Shervone Neckles

Grand Etang Lake

Sign Up To Be Notified Of New Articles