CREATING YOUR AUDIENCE
SELLING YOUR ART
LOVING YOUR CRAFT
HOW TO BECOME A SUCCESSFUL ARTIST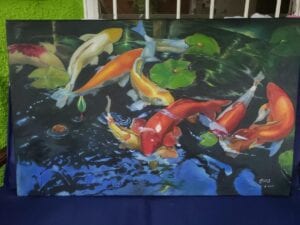 FIRST CONTESTANT RICHIE MODESTE

Master Coutain's involvement in the martial arts field began over 36 years ago when he trained in Trinidad under Professor Don Jacobs. At that time, he practiced the art of Jujitsu. Several years later he added the disciplines of Shoto-Kai Karate, Jujitsu and judo to his achievements. As a member of the Trinidadian Karate team, Master Coutain entered his first competition in 1985. They won the Caribbean Karate Championship. In the same championship, Master Coutain came first in weaponry.
When Master Coutain moved to Grenada, he continued his martial arts training by initiating Taekwon-do students from St. George's University. He subsequently trained under Senior Master Mitchell and acquired his I and II Dan ITF Taekwon-do black belts and became an accomplished ITF Taekwon-do Instructor and Coach.
In 2010, Master Coutain qualified as a naturopath and is a Certified Wellness Consultant. In the same year, he opened the Grenada School of Martial Arts and Taekwon-do ("GSMAT"). As Director, Instructor and Coach, Master Coutain continues to coordinate seminars and workshops in particular on conflict resolution and health and safety practices. in 2015, he hosted his first Caribbean Tournament which was considered a success.
In 2015, Master Coutain traveled to Canada to undergo training in anti-bullying methods at Doggpound Mixed Martial Arts School under the supervision of Master Donnie Hayward Mignon. In August 2017, Master Coutain continued to update his skills by traveling to China to complete the Technology of Acupuncture and Chinese Herbs for Developing Countries course which was organized by the XI Yuan Hospital of China Academy of Chinese Medical Sciences. In 2020, Master Coutain became certified in cupping and reflexology massage and is currently studying acupuncture.
This Son of the Soil is from Grand Anse in the parish of St. George's and is the founding member and guiding light behind the Olive Branch Project Inc, which was established in 2015. Both the Olive Branch Project Inc. and GSMAT are lifetime members of the Taekwon-do Alliance Organization. The Taekwon-do Alliance Organization deems Master Coutain to be suitably qualified to personally grade students of GSMAT and the Olive Branch Project Inc.
As a result of his dedication and achievements in the martial arts field in 2015, the International Congress of Martial Arts Inc., awarded him a Master of Martial Arts and ultimately in August 2016, Master Coutain was inducted into the Universal Martial Arts Hall of Fame in Texas, USA.
You can contact Master Coutain at – martialartgnd@gmail.com, https://www.facebook.com/GrenadaSchoolofMartialArts, 473-538-4005
See more of Master Coutain videos in our Gallery on our website
Hendy George

Shervone Neckles

Grand Etang Lake

Sign Up To Be Notified Of New Articles