CREATING YOUR AUDIENCE
SELLING YOUR ART
LOVING YOUR CRAFT
HOW TO BECOME A SUCCESSFUL ARTIST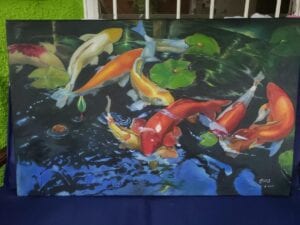 FIRST CONTESTANT RICHIE MODESTE

Having inherited his artistic abilities and being trained in sewing by a close friend, Matthew Jones is a College of Business finance major who is tailoring a career to suit his interests. Vetted, the 20-year-old's clothing line that was launched in March 2020, has fueled Matthew's creative spirit and captured the interest of early adopters of his "no-two-pieces-are-alike" clothing.
Matthew is an American who was born in Brooklyn, NY. His father James Jones is also from Brooklyn. His mother Wendy Sawney is from the parish of St. John's, Grenada. Wendy attended SJCSS before immigrating to the United States.
"I acquired my drawing and design abilities at an early age from my father James who is an engineer, my grandmother Helen Sawney who was a seamstress and Timmy Underwood my longtime friend. Timmy not only taught me the mechanics of sewing but continues to inspire and encourages me," said Matthew who is now a native of Concord, North Carolina and attends Clemson University. "Timmy has been my teacher. I had ideas and he helped me bring them to fruition."
Matthew does all the sewing of his outwear designs which are mostly hoodies, crew necks, vests and jackets. He then markets them on his Vetted web site. One of the clothing's unique qualities is the fabric Matthew uses.
"A tapestry throw blanket-type fabric, mostly of a polyester and cotton combination, is Vetted's signature," Matthew said. "It's basically recycled materials that I purchase online and from very obscure places. I sketch out my design ideas and hand-sew every piece myself."
"Dr. (John) Hannon is a mentor who has taught me so much. He's so encouraging and never doubts my abilities," Matthew said of the director of the Arthur M. Spiro Institute for Entrepreneurial Leadership. "I've learned a lot from failing, and as a person who's 'been there, done that,' he's been instrumental in encouraging me and to take this from a hobby into more of a career aspiration."
"Matthew is a creative, industrious and charismatic Clemson young man who recognizes and is taking full advantage of all the fabulous resources the College of Business and Clemson have to offer big dreamers like himself," Hannon said. "His many attributes will propel him through the inevitable challenges every start-up faces."
Matthew said his clothing has appeal across generational lines, especially to those who have a liking to a sleek and hip look. "There is something out there for all age groups. I like to incorporate '80s and '90s throwback styles but also modern pieces. The pieces appeal to those who are passionate about life and want to emulate that passion in their fashion style."
Apart from the creative aspect in Matthew's career aspirations is the importance a solid business acumen will play in its success.
"The business aspect of Vetted is an intellectual property that I'm learning in the College of Business. I'm excited about continuing to learn as much as I can about financial management and accounting principles that will play a huge role in the longevity of my business. I need to focus on the creative but cannot forget about the importance business plays in the longevity of the business. Finance applies to any industry, but I'm also taking marketing classes to better understand the importance of that discipline."
Balancing academics with the demands of producing inventory and managing the business keep Matthew's plate full, and his desire to take this from an undergraduate venture to a full-blown, stand-alone business will require hard work and financial resources.
"Right now, I'm sewing between classes to keep up with the demand but I'm eventually looking to mass produce. That takes planning and money," he said. "I'm definitely looking for angel investors who might see Vetted as a good investment."
"I see the hard work I'm putting in now will pay dividends down the road. It's always been a passion of mine to create and give something to the world. When I wake up in the morning, I fulfill that passion by creating unique pieces of art through fashion and clothing."
This Son of the Soil has a strong spiritual connection which is obvious as he describes his everyday struggles in his young life. He is very passionate about his walk with God. He best describes his experience at Clemson University through the acronym R.O.I, as he believes that he can see the return on his investment daily. Matthew is a member of Delta Sigma Pi-a business fraternity on campus.
This organization has been the gateway to all of his blessings including a solid like-minded group of peers organized to foster the study of business and commerce, an internship with the Spiro Institute, the Nex Cubed accelerator program, and much more.
As an aspiring entrepreneur, Matthew knows that one's entrepreneurial journey is as strong as one's own network of peers and mentors. His goal is to develop a unique way to bring mass customization and personal value to the everyday customer by providing textile limited edition products to an industry that is yearning for a taste of quality, value, and most of all a connection. Fast fashion is polluting the realm of quality and shortening the life cycle of products.
Shopping with Matthew not only undoes this but also has a positive environmental effect. Matt is proud to be a Clemson Tiger, and most of all, proud to be attending a school he can call home that will ultimately allow him to achieve his goals and accomplish his dreams.
You can contact Matt at, mjj3@g.clemson.edu also at @vmevetted
Hendy George

Shervone Neckles

Grand Etang Lake

Sign Up To Be Notified Of New Articles