CREATING YOUR AUDIENCE
SELLING YOUR ART
LOVING YOUR CRAFT
HOW TO BECOME A SUCCESSFUL ARTIST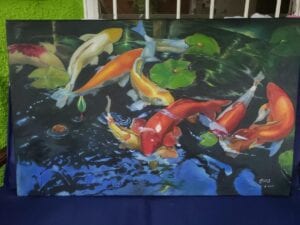 FIRST CONTESTANT RICHIE MODESTE

Najuma James is from Pedmontemps in the parish of St. David's and immigrated to Toronto Canada at the age of 19. She pursued a career in fashion design, with a degree in color psychology, a concentration in textiles, apparel, and merchandising from the International Academy of Design.
Najuma has a gift and passion for arts and design and worked hard to perfect her gift. "I was excited to be accepted into the International Academy of Design for the second time, where I studied interior design. I was able to explore and extensively learn many genres of art and design. While my eyes and vision became stronger for decor, it was vital in securing admission into the International Academy of Design".
Her curriculum required her to take several interior design classes that led her on a journey of vast inspiration and knowledge of many aspects of color variation, textile choices, floor plans, 2D and 3D designs and excellence in artistic vision.
After grad school and a few years of experiences working as an interior designer, this Daughter of the Soil decided to branch off and started her own company. Najee Creations which she founded in 2010 has climbed the ladder to success both in Interior/Exterior design of residential homes and businesses.
Her strong work ethics and vast knowledge in being a business owner has opened her appetite into becoming a serial entrepreneur, with many other businesses:
· Make-up industry ( 13 years)
· Household accessories.
· Organic skin care industry which is relatively new and will be launched in a few weeks.
When asked, what is her main goal and purpose in life? Najuma replied, "My main goal is to live my purpose while motivating others to find their purpose and live their best lives using it to build wealth".
Contact Information
Website: www.najeecreations.com
IG: www.instagram.com/najee_creations
FB: Najee Creations
IG: www.instagram.com/glow_by_najee_
FB: Glow By Najee
IG: www.instagram.com/najeesessentialorganics
Hendy George

Shervone Neckles

Grand Etang Lake

Sign Up To Be Notified Of New Articles