Celia showcasing her craft
CREATING YOUR CRAFT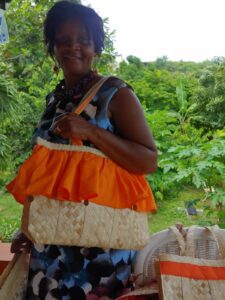 LOVING YOUR CRAFT
HOW TO BECOME A SUCCESSFUL ARTIST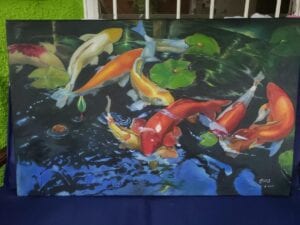 FIRST CONTESTANT RICHIE MODESTE

FROM THE GROUND TO THE TONGUE
Fresh and locally made, all-natural Sauces, Butters, Flour, and Oils. She is originally from Grenville but went to Anglican High School in St. George's. After finishing High School, she returned to Grenville. As an adult, she decided to return to St. George's in search for employment. She got married and started doing odd jobs trying to make ends meet. She always knew that she wanted to get involved in food. She enjoys working in the kitchen preparing meals. She then decided to do a business course at GIDC where she was promised funding to start her own business then came COVID.
Pamela determined that this would not deter her. She and her husband decided to start their own little hustle at Greenbridge selling barbecue with fries, chicken with fries, coconut bakes with salt-fish, souse, drinks etc. Thing started taking off when most of her customers started requesting garlic sauce. "We had none but decided to try a thing. I went home, did some research and came up with my own recipe for garlic sauce". This put her on the road to launch PRB Naturelz in 2020.  "This took a lot of sweat and hard work, it was actually a risk" Pamela stated.
"I posted my new ideas on FB then seems like everyone started calling". Pamela started out with three sauces and has increased to twenty-four. "We only had Garlic Sauce, garlic yogurt and garlic herb. We've since added Garlic Chili, Garlic ginger and honey vinaigrette, Garlic honey mustard, Roasted sweet onion sauce, Creamy sauce, Apple Sea moss sauce to name a few". Besides the various sauces, Pamela also created her own Garlic butter, Garlic and herb butter, Coconut butter, and Garlic and ginger butter. She also created Garlic oil, Garlic herb oil, Herbal Garlic Chili oil, Moringa oil, Flaxseed oil, and Turmeric and Ginger oil. She also has various types of flour, Sweet Potato, Banana, Dasheen, Plantain, Cassava, Breadfruit, Tania and Oats.
She has a great following on FB with lots of recommendation. "Once you taste it, you would want more". She believes that what keeps people coming are the natural ingredients in her products. "We had to add preservatives but besides that, it's all natural". Her products are found at Food Fair on the Carenage, at Maroun, Hotspots supermarkets and Sunrise Minimart.
We asked this Daughter of the Soil for any word of advice for up and coming entrepreneurs for which she respond, "Even though when you feel that you cannot make another step, keep pushing. Even though you cannot find any motivation, keep pushing. Never ever give up on your dreams. Push until you are where you supposed to be".
Contact information
473-418-9400
Instagram and FB @ PRB NATURELZ.
Hendy George

Shervone Neckles

Grand Etang Lake

Sign Up To Be Notified Of New Articles