CREATING YOUR AUDIENCE
SELLING YOUR ART
LOVING YOUR CRAFT
HOW TO BECOME A SUCCESSFUL ARTIST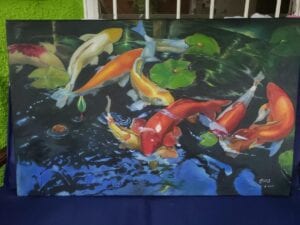 FIRST CONTESTANT RICHIE MODESTE

Pearls Airport was an airport located at the North Eastern Corner of the island, 19 miles north-east of the main town and capital of Grenada. The runway was set at a direction 082 degrees/262 degrees and 5,200 feet. It was Grenada's first airport. It was built by the British and was opened in 1943 under the management of the Grenada Airports Authority. Pan American Airways did not operate in the Windward Islands because of an excluding agreement made by the British Government to protect British West Indian Airways, this meant the airport was not in daily operation.
Pearls located in Grenville, Grenada's second largest town, until 1984 was the primary airport for Grenada. It was approximately a 45-minute drive through a very windy, steep and convoluted mountainous pass to St. George's where almost all the island's hotels were and still are today. Furthermore, one could only fly into Pearls during the day because of the mountains behind and the ocean in front of it. If one wanted to travel from the Americas or Europe, one had to fly into Barbados or Trinidad and Tobago, stayed overnight and then take an island hopper to get to Pearls. No passenger jets could land in Grenada until the new airport was finally constructed in 1984 at Point Saline, just a few minutes' drive south of St. George's.
Pearls Airport was used by the Allies for military aircraft during World War II. After the war, the airport reverted to civilian operation and the runway was extended and paved to its final length. The airport's principal commercial carrier was Leeward Islands Air Transport (LIAT), which linked Grenada to nearby islands with its 48-passenger turboprop aircraft. The airport's surrounding hills and its distance from the capital city of St. George's made it unsuitable for further improvements.
On October 25th,1983, Marines from the 8th Marine Regiment landed nearby by helicopters and "captured" Pearls Airport during the invasion of Grenada, meeting only light resistance. The airport then consisted of a cinder block terminal/operations building and a fuel storage facility. The Marines seized two parked aircraft. One was an AN-26 Cubana Airlines turboprop which had arrived the day before from Havana with two high-level Cuban officials. The other was an AN-2R biplane, a gift to Grenada from the Soviet Union, ostensibly for agricultural spray use. During the ensuing period of hostilities, the Marines used the airfield as a base for offensive operations to complete subjugation of the eastern side of the island. The principal American base was at Point Saline where a 9,000-foot runway and new terminal were nearing completion.
Today, you can take a trip up to Pearls to witness local drag racing.   
Hendy George

Shervone Neckles

Grand Etang Lake

Sign Up To Be Notified Of New Articles