Superstar R&B Artist Official Angello
Alex Bubb Most Favorite Artist accepting his Grand Prize EC$1000.00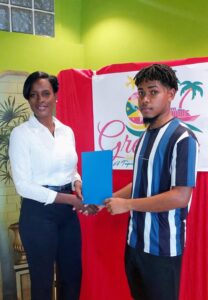 Lilian Langaigne contest winner
Dale Neptune celebrating with Raniem & Alex voted Most Favorite Portrait Artists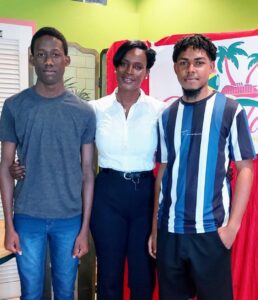 Our First Contest Winner Atyiah Chetram
Richie Modeste
CHARGA BOI Happy together

Ryan Matthew Mitchell of Mt. Parnassus St. George but resided in the United States of America
passed away on Saturday 14th August, 2021 in the US
at the age of 27.
Left to celebrate his life are his:
Parents: Lucille Mitchell and Randolph Campbell
Siblings: Luan in the U.K.; Lynda, Jasmine and Simone in the USA, Devon, Reena and Laureen in Grenada
Many aunts and uncles including: Leroy, Ellen and Grant in the USA; Lincoln, Rubian, Christine and Don in Grenada
Twelve (12) nieces and nephews
Numerous cousins and relatives including: The Mitchell family of Pomme Rose and abroad, the Charles and Campbell family in Grenada and abroad.
Brothers- in-laws: Shenten Enoe, Neal Francis and Brian Burnett
Many close friends including: ASP Connaught and family, Mrs. Jean Bowen and family, Enoe Family, Dr. Claudine and family, Dr. Shani and family, Pastor & members of St. George's SDA Church and SDASO at SGU, present and past staff of Hexive creative agency in Grenada, Staff and friends at Butler Creek Education Life Center & Waynesboro SDA Church in Tennessee, Nicole Sydney and family in the USA, Neighbours and friends: Mt. Parnassus, Tempe, Paddock and surrounding areas.
Dave Chappelle Grenadian Roots
Shervone Neckles

Grand Etang Lake

Sign Up To Be Notified Of New Articles