CREATING YOUR AUDIENCE
SELLING YOUR ART
LOVING YOUR CRAFT
HOW TO BECOME A SUCCESSFUL ARTIST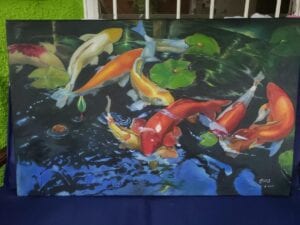 FIRST CONTESTANT RICHIE MODESTE

Steven Cyrus aka Swoggy is a 26-year-old dance Choreographer at Sandals Grenada Resort and Spa. Steven attended Presentation Brothers College for five years and later branched off into his dancing career. He choreographs in all forms of dance but especially enjoys Afro and Hip-Hop.
While working at Sandals, Steven has achieved thirteen Monthly Sandals Prestige Awards along with two Annual Prestige Awards in the categories of Best Team Member of the year and Legendary Talent Award. He also traveled to Sandals Ochi, Sandals South Coast and Sandals Grand for Sandals Festivals of the Arts competitions in Duo and Solo categories.
Steven has worked with various Soca artists such as V'ghn Slatter as a back up dancer in Grenada Cyber Monarch and Trinidad's very own Destra Garcia in a music video whining challenge. He has challenged himself to upload many dance videos of different genres of music and recently performed in "Brick by Brick" by V'ghn.
Swoggy is excited about his career and has great plans for his future. " I see myself opening a studio where I teach people how to dance. I also would like to start a clothing line, working with artists creating music videos, going on dance tours with celebrities doing back up dance, acting in movies, etc".
This Son of the Soil is from New Hampshire in Willis St. George's and hopes that his talent would be recognized as having a positive impact on people's lives. He has been dancing for over ten years. When asked if there's anyone that motivated him to become a dancer? Steven replied, " My sister and my cousin motivated me because I've always wanted to dance with them in the small community dance group. Back then, old skool Jamaican moves were popular and as I grew older, I managed to develop ways to create and learn different styles of dance and was opened to different genre of music.
Steven is looking for investors that believes in him. He was able to take his career to another level during the COVID crisis. " I was able to craft and improve my dancing skills as a Choreographer. I also improved on my exercise regimen. I now work out every day, I eat healthy, drink lots of water and most important of all, I choose to stay focus and positive because at the end of the day, there must be a balance in life where dance is a drive which creates a positive mind that keeps me focus as I pursue my dreams".
Contact Information:
Facebook: Swoggy D Dancer
Instgram: Itz_SwoggDann
Youtube: Swoggy D dancer
Icloud: swoggy27@icloud.com
WhatsApp  1473 415-9962
SEE MORE OF HIS VIDEOS IN OUR GALLERY ON OUR WEBSITE
Hendy George

Shervone Neckles

Grand Etang Lake

Sign Up To Be Notified Of New Articles