Celia showcasing her craft
CREATING YOUR CRAFT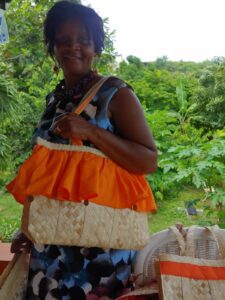 LOVING YOUR CRAFT
HOW TO BECOME A SUCCESSFUL ARTIST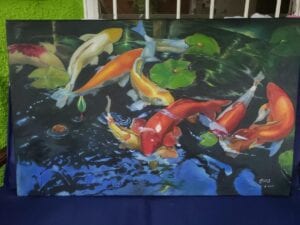 FIRST CONTESTANT RICHIE MODESTE

There are more than 30 mountainous landforms on Grenada and on her smaller islands of Carriacou and Petite Martinique. Seven of those landforms qualify to carry the prestigious title of "mountain". According to National Geographic, most geologists classify a mountain as a landform that rises at least 1,000 feet above its surrounding area. There are nine true mountains, and they are all located on Grenada.
Grenada is composed of five Pliocene-to-Pleistocene volcanic centers, the youngest and highest of which is Mount St. Catherine on the northern end of the island. A complex of lava domes is located within a crater breached to the east at the summit. Pyroclastic-flow deposits extend NW from the extensively weathered volcano.
Mt. St. Catherine is located in the parish of St. Marks in Victoria. This volcano has a 1.5 km horseshoe shaped crater open to the east, where a complex of volcanic lava domes occurs across its flanks and is monitored by the Seismic Research Center of the University of the West Indies. The volcano is considered dormant because it has likely not erupted since the last Ice Age. It is considered to be the only live volcano among the five volcanic centers in Grenada on account of its relatively well preserved morphology and the presence of hot springs and fumaroles on its flanks. Although violent eruptions occurred in the geological past (i.e. Pleistocene—2,588,000 to 11,700 years ago), revealed by voluminous pyroclastic-flow deposits extending northwest of the summit.
Mount Saint Catherine is the tallest peak in Grenada at an elevation of 2,755 feet (840 meters) in the northern part of the interior. The landscape is scenic with fairly deep steep sided valleys and about 10,000 acres of forest. It is one of the most spectacular viewpoints in Grenada. Groups of tourists can often be seen resting and toasting with rum at its summit. While Kick 'Em Jenny is classified as an active volcano, there are no recent eruptions of Mount Saint Catherine on the historical record therefore, it is classified as dormant.
The mountain summit is accessible by three steep rugged routes crossing the forest reserve. Tours are available, as well as guided trips to Tufton Hall Waterfall, the highest waterfalls on the island, off the southeastern flank of the mountain. One can drive to the town of Victoria then go inland towards the Diamond Chocolate Factory. The road maps might be confusing, but when the road forks, go to the right. Once you pass the water processing plant, follow the road up to the left and park right after an abandoned cement house beneath a Golden Apple Tree with shoes hanging from it. Walk up the dirt road to the left and once it ends, follow the path to the top which probably still marked by yellow and red ties in trees.
Hendy George

Shervone Neckles

Grand Etang Lake

Sign Up To Be Notified Of New Articles